Youth & College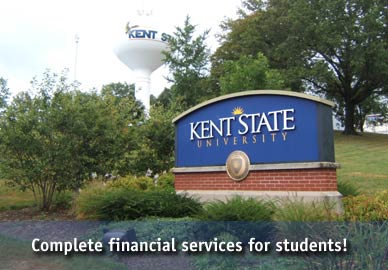 Kent Credit Union is conveniently located near Kent State University, less than a mile away from campus.

Visit KentKash.com, our website for Kent State University students for special offers, discounts, a 'Best of Kent' list, and many local and financial resources.
Apply online — It's fast, easy, and secure!
As Kent locals, Kent State University students can become Kent Credit Union members and enjoy all of the same services we provide to all of our members, with a genuine respect for the unique financial challenges associated with student life.
If you're a student, you'd like to hear about our free checking. We've taken the hassle out of having a checking account of your own, with no monthly fees, no minimum balances, and unlimited check writing. We also provide a variety of other free products and services for your convenience.
Stop by, we are just around the corner. View a map and see just how close we really are!
Forbes.com recommends college students check out credit unions for low fees
Forbes.com recommends that college students check out credit unions when they open their first financial accounts. The article notes that credit unions often offer "lower costs and better services."